a few things to know when you order our flowers online
ordering flowers online
'Same day delivery' orders need to be received prior to 11:30 am Monday to Friday & 9am Saturday. Our store is open Monday – Sunday, so in store collection/pickup is available 7 days (excluding public holidays).
Please note: Most flower varieties are season and weather dependent.
–  COVID-19 Update  –
Due to COVID-19 our variety and availability of flowers are changing by the day, therefore we will be focusing on blooms based on 'best in-season' & 'availability', especially those that we can source locally.
All pictured designs are examples only, each design may differ slightly upon arrival due to the nature of all flowers being unique. We thank you for entrusting our creative and passionate florists to choose the best alternate seasonal blooms for you.
We are located at the top end of Logan Road in Woolloongabba, right next to the GABBA Stadium. Nestled in a quaint, vintage precinct along with well known cafes and restaurants – 1889 Enoteca, Mr. Badgers, The Bakers Arms & Detour, just to name a few.
Experience the difference in our creations and service, we take pride in everything we deliver.
Thank you for choosing stalks & stems!
when words are not enough
we stock a unique collection of flowers, gifts, homewares and more. you need to visit our store in 28A Logan Road, Woolloongabba to truly experience.
stalks & stems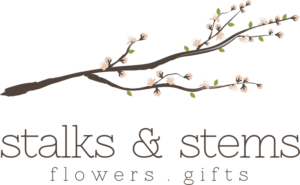 Stalks & Stems Florist, Woolloongabba
Sharing Joy through Beauty
Everyone has their own unique role in the community.  The way we see it, ours is to spread joy through beauty by providing floral arrangements that make the heart sing.  We aim high and always strive to be the best florist in Brisbane.
Centrally located in Historical Woolloongabba, we provide impressive floral arrangements, including bouquets, homewares, gifts, cards and more sourced from locations around the world.
You can also take advantage of our reliable online ordering and delivery service. Most orders are available for same day delivery across Brisbane when ordered before 12pm T&C's apply for special days.
Whether it's to celebrate a milestone like a birthday or engagement, offer comfort in times of grief, illness or convalescence, or give your home or office that welcoming 'wow' factor, we take extra care to ensure our floral arrangements are simply stunning.
How are we different?
Beautiful: At Stalks & Stems, we know the language of flowers and can put together something special for you to express yourself with.
Presentation: We are mindful of the overall presentation of our floral creations, so have developed a luxe wrapping style which both protects your flowers in transit and impresses the receiver.
Reliable: Although prior notice is welcome, we know the flower delivery often needs to be made within a short time frame.  This is not new to us. Same-day delivery can be made in Brisbane with orders made before noon.
Online convenience:  We know that our customers don't always have the time to come in and inspect our flowers and gifts.  This is why our online florist Brisbane service offers a variety of arrangements to choose from on our website.
Community-minded:  As well as creating carefully curated florals, we are involved in our community and love to get to know our regular customers.  We listen carefully to your needs and help articulate what you would like to 'say with flowers'.
Giving flowers is still one of the nicest gifts with which to communicate your love, compassion or regard for someone.  At Stalks & Stems, we take pride in everything we deliver.  Experience the difference of our stunning creations and exceptional service.
Best Online Florist across Brisbane – Stalks & Stems
our latest from instagram
a haven of discoveries
An eclectic range of bespoke flowers and gifts, sourced
from select locations around the world.
unique florist store
in Woolloongabba, Brisbane